Pizza Brand Strives to Break Three Year Fundraising Record of 400,000 Meals in 2014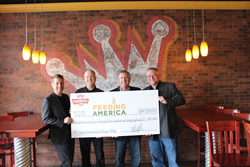 Whitewater, Wis. (PRWEB) March 19, 2014
Toppers Pizza (Toppers) was founded on two principles: a love of pizza and a love of people. The rapidly growing eclectic pizza delivery franchise brand has taken these principles to heart through its partnership with Feeding America, the nations leading domestic hunger-relief charity.
Every dollar donated to Feeding America provides eight meals for families in need, and over the past three years, Toppers has raised a total of $ 146,328 for Feeding America, the equivalent of 1,170,624 meals. In addition, to further aid hunger relief, President and Founder of Toppers, Scott Gittrich, personally matched 50 cents for every dollar the company has raised since 2011.
Through our three-year partnership with Feeding America, weve been able to connect with the community and make a true difference for a cause that we feel passionately about, Gittrich said. In addition to raising vital funds to overcome hunger, we strive to engage with new audiences, provide opportunities for those in need and inspire people to support Feeding America in the long-term.
These charitable efforts were truly a collective effort on behalf of Toppers, as the entire brand came together from store managers to team members to customers and helped raise money for meals in communities that needed it most. As the chosen charitable organization, Feeding America has been a point of pride for the pizza brand to partner with because of the organizations commitment to giving back 75% of the money raised to the individual market in which it was collected.
Toppers has always upheld a core value of giving back to the communities in which we live and work, and its been an honor to work as a team to help others while partnering with Feeding Americas charitable effort and worthwhile cause, Gittrich said.
Random CPMNetwork Sponsor Contribution on the topic of ClICk URL :
ClICk URL
In order to spread awareness throughout Toppers units nationwide, franchisees have made Feeding America a focal point at their specific locations, from developing Topperstix eating contests to creating special menu promotions to volunteering their personal time. Toppers Hero Day in Milwaukee was a success last summer and a great example of how the brand brings franchisees, corporate team members and headquarters team members together to volunteer. This type of event is not only a great team-building experience for Toppers, but also a tremendous help toward fulfilling Feeding America initiatives. Toppers franchisees and their team members have also asked their individual communities to help the brand achieve its goals through special campaigns and partnerships with their local food banks.
Our impact on this pressing cause would not have been successful without the passion and dedication of our franchisees, our team members and our customers, who we cannot thank enough for their support, said Manager of Marketing and Public Relations for Toppers Bridget Keeler. Their continuous effort will directly impact families struggling with hunger.
As Toppers Pizza continues to expand nationwide through its franchising model, its relationship with Feeding America will continue to grow, allowing the pizza concept to aid an even greater number of families affected by hunger.
ABOUT TOPPERS PIZZA

In 1991, Toppers Pizza began its quest to become the best pizza company in the world by killing it on every detail of the customer experience. Headquartered in Whitewater, Wis., Toppers takes a unique approach to the crowded pizza segment by cooking up mouthwatering specialty pizzas that start with their fresh, made-from-scratch dough, smothered in real Wisconsin cheese and finished with outrageous toppings such as French fried onions, oven-roasted tomatoes, mac n cheese and tater tots. Toppers claim to fame comes in the form of Topperstix, arguably the planets most addictively delicious cheesy breadstix. The Toppers empire encompasses 54 restaurants across 10 states and, with its rapid expansion, is in the midst of Midwest and national domination. In 2013, Entrepreneur Magazine ranked Toppers as one of the top 500 franchises in the U.S., Nations Restaurant News declared the brand as one of the 50 breakout chains of the year, and Toppers received a No. 58 spot in Pizza Todays top 100 pizza companies. For more information on Toppers, visit http://www.toppers.com, http://www.facebook.com/ToppersRocks or http://www.twitter.com/ToppersPizza.
3 Responses to 'A United Fight Against Hunger: Toppers Pizza Gives Back Through Partnership with Feeding America'
Leave a Reply
You must be logged in to post a comment.